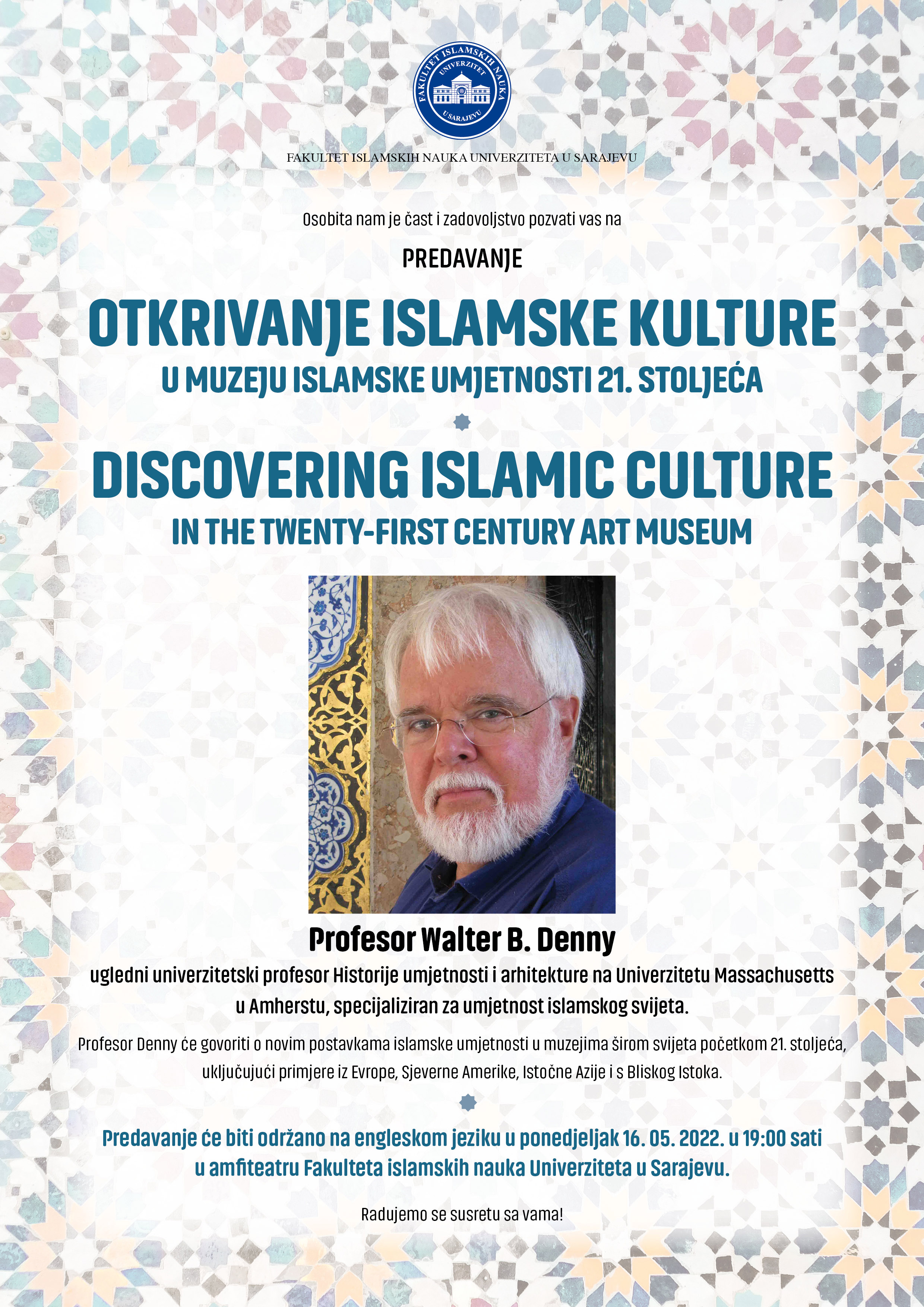 Lecture by Professor Walter B. Denny will be held in English on Monday, May 16, 2022 at 19:00 in the amphitheater of the Faculty of Islamic Sciences, University of Sarajevo.
In this illustrated lecture, professor Denny will discuss new installations of Islamic art in museums around the world in the early twenty-first century, including examples from Europe, North America, East Asia, and the Middle East.
He will examine the ways in which art museums present the art of Islamic peoples as a portal to understanding the various Islamic cultures, and the effectiveness of Islamic art as a way of conveying facts and feelings about culture.
Short Biography
Walter B. Denny is University Distinguished Professor of the History of Art and Architecture at the University of Massachusetts at Amherst, specializing in the art of the Islamic world. From 2007 to 2016 he also served as Senior Scholar in Residence in the Department of Islamic Art at the Metropolitan Museum of Art. After completing his B.A. degree at Oberlin College in 1964, he received his M.A. (1965) and Ph.D. (1970) degrees from Harvard University. His broad research interests and publications concentrate in the Ottoman Turkish sphere and in the history of Islamic carpet and textiles. He has also taught, pursued research, and published on the thousand-year history of east-west interchange in European culture. He lectures frequently on a variety of topics in the U.S. and abroad.
Professor Denny is visiting the Faculty of Islamic Studies on the occasion of Ms Fatima Žutić's PhD defence ceremony and in his capacity as a co-supervisor of her dissertation on Islamic prayer rug (sajjadah) and its cosmological symbols. His visit coincides with 52th anniversary of his distinguished career at the University of Massachusetts.